Players assigned to be the small forwards are expected to score points and defend, while players assigned as power forwards serve as the assists in scoring and rebounding. 
We already know that each player has a certain role and position to perform in a basketball team, and each role requires specific skills and abilities.
In line with this, power forward vs. small forward both fall under the umbrella of the five positions in Basketball.
Differences Between a Power Forward vs. Small Forward
Two of the valuable basketball positions are the small forward and power forward.  Here are the differences between these two basketball positions based on their roles.
What is the Role of a Small Forward?
Small forwards are described to be the versatile players in court because they are the ones who can make score around the key, within the wings, and near the rim. 
Since small forwards' responsibility is to score and defend, they are often expected to be the secondary (or tertiary) rebounders, usually behind the center and the power forward.
In the NBA, the height of players assigned to be small forwards usually ranges from 6′ 6″ (1.98 m) to 6′ 10″ (2.08 m). In the Women's National Basketball Association (WNBA), small forwards are 5′ 10″ (1.78 m) to 6′ 1″ (1.85 m).
What is the Role of a Power Forward?
On the other hand, power forwards plays offensively with their backs towards the ring and set their defense position against their power. They can also post up, block shot attempts, shoot three points, and perform mid-range jump shots.
Power forwards specializes in defense and rebounds. Their height ranges from 6′ 8″ (2.03 m) to 7" (2.13 m) barefoot, while power forwards in WNBA are between 6′ 0″ (1.83 m) and 6′ 3″ (1.91 m). 
Identifying Small Forward Players from Power Forward Players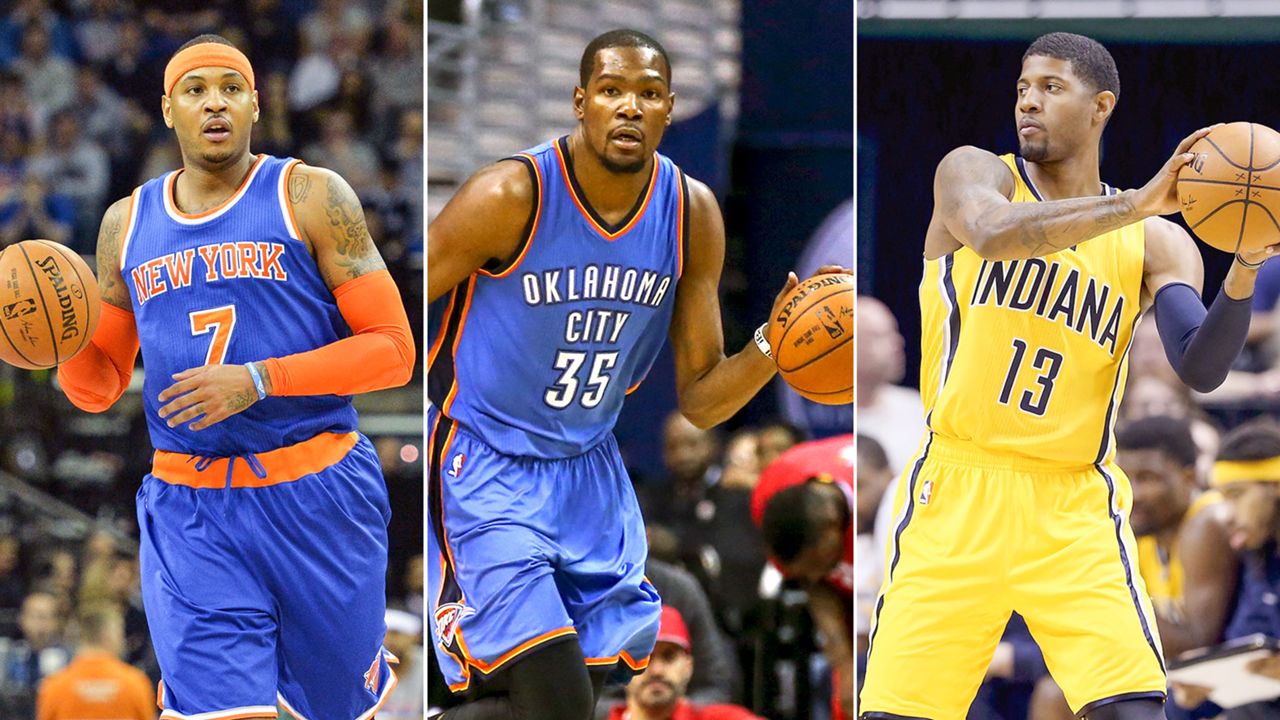 Small Forward Players
Small forward 
players might be smaller in height 
than power forward ones, but their physical build allows them to move quicker and faster. With this skill, they can easily protect and perform defensive strategies.
These players are quicker than power forward ones, they take faster shots, dribble shots, floater shots, catch and shoot better.  Their ability to shoot and score is more likely to be favorable compared to power forward players.
Power Forward Players
Power forwards appear more dominant and more powerful compared to small forwards. In most cases, they are taller and stronger and are functional in intense screen defense against the opponent. 
Power forward players score better than low-post or mid-range players and since they are focused on their role, they are expected to perform well. May it be in passing the ball to a point guard or resisting the opponent's defense strategy. However, it is only rare to see them running and dribbling around the court. 
While power forwards is not versatile or flexible, their steadiness makes them more focused on what to do rather than juggling many roles.
Small Forward NBA Stars
LeBron James – currently a  6'8″ player of the Los Angeles Lakers. He plays either small forward or power forward even before entering the NBA. 
Kevin Durant – a 6'10" player of the Brooklyn Nets. He was also a player of the Golden State Warriors from 2016-2019.
Kawhi Leonard – a 6'7″ player of Los Angeles Clippers. In February 2021, Durant referred to Kawhi as a "Hall of Fame player."
Kobe Bryant – Bryant was a 6'6″ Los Angeles Lakers' small forward player and a shooting guard.
Michael Jordan – Aside from being a Shooting guard, Jordan also served as the Chicago Bulls and Washington Wizard's small forward player.
Power Forward NBA Stars
Kristaps Porzingis – with his height of 7'3″, Kristaps of Dallas Mavericks plays both powers forward and center positions. 
Julius Randle – is a  6'8″ power forward of the New York Knicks.
Thaddeus Young – a power Forward player from Chicago Bulls standing 6'8″.
Marcus Morris – plays both power forward and Center position for the Los Angeles Clippers.
Taj Gibson – a power forward player formerly from Chicago Bulls but is now playing for New York Knicks.
Conclusion
None of the five basketball positions should be underestimated. However, there are certainly some roles to be executed that require tough skills and versatility. Examples of which are the small forward position and power forward position. While both are integral in championing a game, they have unique abilities that contribute to teamwork.
As a wrap-up, small forwards are the most versatile inside the court, as they can be all-around players. On the other hand, power forwards' strength is their physical build and defense strategies. Both positions are indeed demanding in physical skills and requirements but will surely help in the game.