Becoming an NBA referee is a step-by-step process. Like in any other professions, you need to wait until there's a vacancy to apply for the position. As a requirement to be qualified, you need to have knowledge about how the game goes by obtaining proper training. You also need to have interpersonal and intrapersonal skills to be a successful NBA referee.
A referee's role doesn't only revolve around enforcing rules on how the game should be played, but they are the ones who make sure that each game is played fairly and that the players are always on the safe side. 
Have you ever imagined how it's like to officiate in a professional basketball league? In this post, we'll figure out what it takes to become an NBA referee, the requirements, and we'll discuss their role in the game.
Requirements
to Become an NBA Ref: Here's What You Will Need

Having a referee's uniform and a whistle are not the only requirements for becoming an NBA referee. Some other prerequisite requirements will come in handy should you pursue this career. These requirements to become an NBA referee are essential towards being competent. 
1.
Physically Fit
To make the right judgments, aside from having a 20/20 vision, a referee must always be in the court's best position to see exactly all the player's movements. With this, referees may need to run about 1 to 4 miles per game, especially that the NBA is fast-paced. Referees feel a high amount of stress and get tired after the game, just like players do. That's why being physically fit is one of the top requirements.
2. Mentally Fit
As a referee, expect to hear complaints and endless criticisms towards you with your court decisions. Don't let these affect you emotionally. Judgments made by referees should be objective and must not be influenced by emotional factors.
No matter how the audience mocks you, your decision must still be based on the rules of the game. Being mentally fit is an essential aspect of officiating a basketball game. That's why psychological exam and interview is a part of the recruitment process. 
3. Referees Equipment
Highly competitive leagues such as the NBA takes good care of referees by sponsoring their equipment from the uniforms, shoes, and whistles.  In choosing for equipment to be used for the game, it should always be at the standards.
Steps to Becoming a Referee in the NBA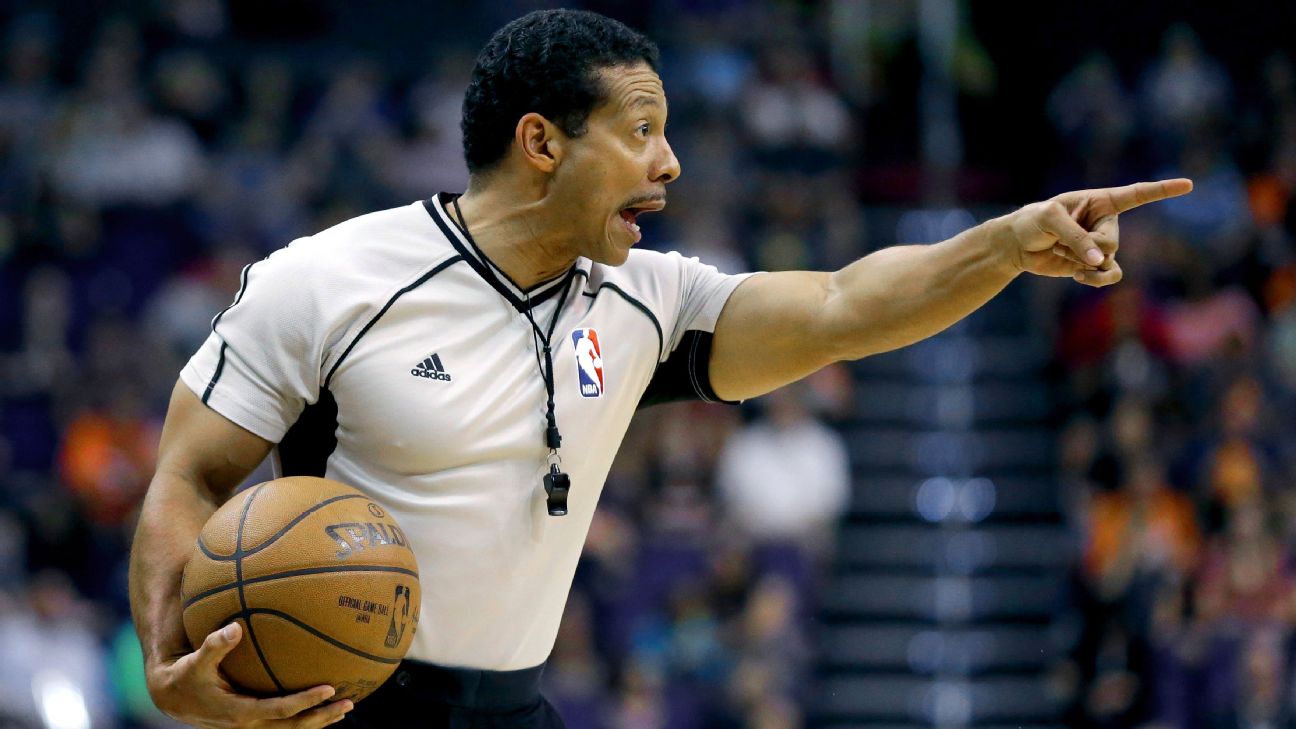 Like most careers, there are different ways you can do to achieve a job as a professional referee. Having a vast career experience may help, but there are some specific steps for getting into the NBA association as a referee. Here are the steps to becoming an official in the National Basketball Association.
1. Get an education
Having an educational degree is unnecessary if you are an aspiring NBA ref. As long as you are a high school graduate, you can be qualified. However, to increase the chances of getting hired, having basketball training certificates is a great edge of being qualified. Most aspiring referees have been a basketball player for a long time. That's why they already have an idea of how to officiate a game.
2. Learn the game and obtain a proper training
Having enough knowledge about all the ins and outs of the game are a must. There are different ways by which an aspiring referee can learn the basics and all of the game's principles. You can enroll in some courses to get certifications, attend training camps, or you may also read rulebooks and manuals to learn.
The actual application of the game's rules and regulations is best learned in actuality. Memorizing these rules and regulations is not enough unless applied. You may watch an actual game and observe how the referee makes decisions or you may try officiating a game with the supervision of a professional referee.
3. Be certified
Applying as an NBA referee makes it good to have some related certificates. It can be obtained through undergoing assessments such as written examination or field tests.
4. Visit the NBA official website
If you know you have what it takes to be a referee, go to the NBA official website and have yourself registered. Through their website, you can see announcements if there are job openings.
1. Enforce Rules
 Referees are the ones who enforce rules. They are like human CCTV's. As soon as they see any violation committed by the player, they'll stop the game through their whistle. The common rules that referees usually call include dribbling infractions, fouls, and when the balls lose out of bounds.
2. Maintain Order
Referees make sure that the game is played in a sportsmanlike manner. In a game, it can't be avoided that some players may engage in a brawl; that's why it's the referee's role to stop such behaviors, so no one is harmed.
3. Ensure the game flow
Aside from taking part in uplifting the players' spirits, they are responsible for keeping the game moving. They may be the ones who call for timeouts, but they need to lessen or avoid unnecessary game stoppages. 
4. Keep time
There are digital clocks that keep track of the game during an NBA game. However, it can always malfunction; that's why a referee should always be ready with a stopwatch or a standard watch to ensure that no one gets a shot after the clock expires.
Officiating a game isn't an easy task. It requires great patience and effort to learn the game and make the right judgments.  It may be challenging, but being an NBA referee is fulfilling if you have a passion for basketball. Like in other professions, you must have broad experience to fit the role. It is not only enough to know how to play basketball, but it is a must to be familiar with its fundamentals. With this, being an NBA referee entails great responsibility.